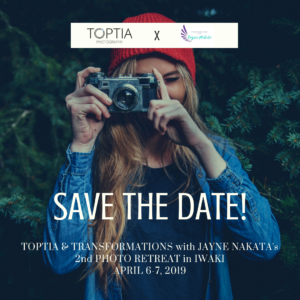 Because our Kyoto Photo Retreat was so successful, TopTia is once again partnering with Transformations with Jayne Nakata for our second photo retreat! Six to eight ladies can come together with cameras -or smartphones- of their choice to learn photography tips such as:
Understanding your camera.
Understanding your smartphone's portrait mode.
Taking better photos of your children & friends.
Taking better photos of delicious dishes at restaurants.
We want to make this experience special for our participants and not only show ladies photography tips but also offer participants a chance to step away from their busy work and family lives to enjoy this 2 day, 1 night to relax. This includes:
Staying at a traditional Japanese Ryokan.
Enjoying a nice natural hot springs bath.
Networking with other like-minded ladies.
Have spring portraits taken while enjoying a kimono experience.
Drawing with lights after dinner
Wine, wine and more wine!
To receive more information, contact us here: