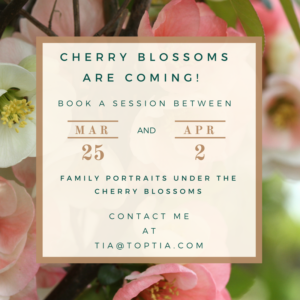 Cherry Blossom session is coming!
TopTia Photography is now taking reservations for a one to two hour family photo sessions under the cherry blossoms!
Here are the types of photo session offered by TopTia Photography:
One-Hour Photo Session (15 photos) :15,000 (plus tax)
Two-hour Photo Session  (25 photos): 25,000 (plus tax)
Our photo session ideally will be held in public parks and areas throughout the Tokyo and Yokohama area. Other locations can be negotiated.
Delivery of photos will take 10 to 14 days by digital download or by prints.
Fill out the contact form below to reserve a photo session with TopTia!
[contact-form-7 id="2436″ title="New 17 Hats Contact Form"]